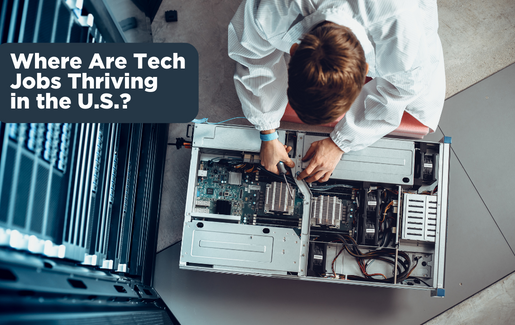 If you had to predict where the majority of the country's tech jobs were located, where would be your best guess? Would it be California? Or, maybe New York? If one of those states was your guess, you wouldn't be wrong. But, would you be surprised to learn that Florida, Virginia and Massachusetts also hold prominent places on the top Cyberstates™ by net tech employment job gains rankings?
Cyberstates, published annually, is the definitive guide to national, state and metropolitan area tech sector and tech workforce analytics. Cyberstates aggregates mountains of data and transforms it into easy-to-understand visuals and actionable insights.
Job Gains in Tech Employment
The term "net tech employment job gains" simply means how many net new jobs in technology were added in a year. This year's data shows that job gains in tech employment have grown steadily over time. From 2021 to 2022, all states and the District of Columbia experienced job gains in net tech employment, and while the largest job gains are associated with the states with a significant tech presence, the fact that all states experienced job gains goes to show just how broad the impact of technology is across the nation. While seven states topped the 10,000 mark for tech job additions. As a whole, 199,147 new tech jobs were added nationwide last year.
California net tech employment was an estimated 1,487,864 workers in 2022, a gain of 38,186 net new jobs year-over-year. Other states that experienced notable tech employment gains include Texas, Florida, New York, Washington and Georgia
Top 10 States by Net Tech Employment Job Gains
Texas                               +45,331
California                          +38,186
Florida                              +22,029
New York                          +18,487
Washington                      +17,962
Georgia                            +10,728
Colorado                          +10,174
Pennsylvania                    +9,918
New Jersey                      +8,563
Illinois                               +8,350
Which Sectors Are Growing?
On an industry sector basis, the IT services and custom software services has been the growth engine for the greatest number of states over the past few years. This is both in response to as well as an enabler of the ongoing digital business transformation trend.
Top categories by state:
IT services/custom software services: 49 states
Software: 48 states
Telecommunications: 43 states
Tech manufacturing: 37 states
Top 10 States for Net Tech Employment Concentration:
Employment concentration compares the number of people employed in the tech industry to the total number of people employed in the state. In 16 states across the nation the concentration of tech workers is higher than the national average of 5.8%. 
Washington state has the highest concentration of tech workers (9.4%). This indicates that citizens of the state are more likely to hold a tech job relative to other industry sectors. 
1. Washington: 9.4% 
2. District of Columbia: 9.3%
3. Virginia: 8.7%
4. Massachusetts: 8.4%
5. Colorado: 8.3%
6. New Hampshire: 7.9%
7. Maryland: 7.9%
8. California: 7.7%
9. Utah: 7.2% 
10. Oregon: 6.7%
Cyberstates 2019 (#cyberstates) is based on CompTIA's analysis of data from the U.S. Bureau of Labor Statistics, the U.S. Bureau of Economic Analysis, EMSI, Burning Glass 3 Technologies Labor Insights, and other sources. Estimates for 2018 are subject to change as government data is revised and updated. The full report, with complete national, state and metropolitan level data, is available at www.cyberstates.org.