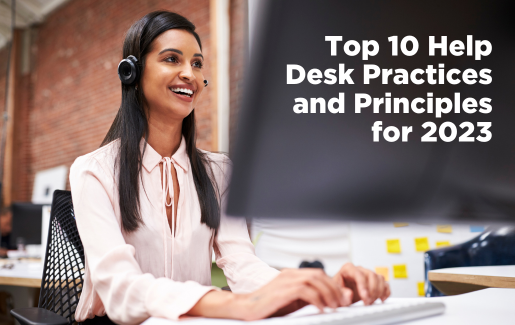 The help desk is a critical part of any organization's infrastructure. Help desks are a one-stop shop for users to request functionality, ask for help with hardware or software issues and communicate with the IT staff. It should be the only entity users need to contact for any support issue – and that allows the overall business to function more smoothly.
Of course, we can always improve. Read on to learn 10 practices that will bring out the best in your help desk team. These tips fall into three general areas:
Communication
Knowledge
Culture
Developing skills in these areas is beneficial to all who come in contact with the help desk.
Related Content: Help Wanted: The Skills You Need to Land a Job at the Help Desk
Effective Communication
The first three tips to improve your help desk deal with communication. Your help desk's primary job is facilitating communication with customers, other support teams and other parts of the organization. Arming your team members with communication skills goes a long way toward implementing an effective help desk.
1. Provide Effective Communication
Customer communication may take place in person, via email, phone, chat program or another channel. Strive for clear and concise wording and avoid slang or technical terms. These terms tend to reduce clarity and offer the opportunity for misunderstandings. Be sure to log all communication.
2. Practice Active Listening
Listening skills enable help desk technicians to understand the customer's concern, making it easier to resolve the issue. Patience is key—don't make assumptions or jump ahead of the user. Repeating the user's concerns back to them is an effective way of confirming you understand their problem. That understanding gives you a much better chance of resolving the issue.
3. Give Quick Responses
Any interruption to the workday is unfortunate for the user. Such interruptions might put them behind schedule, prevent them from attending an important meeting or result in a loss of files they worked hard on. Communicating with the user quickly helps reassure them the problem is being handled. Most users recognize that various issues have different priority levels. They may also know help desk staff members are often very busy. At least acknowledge the ticket and let the user know you'll get to it as soon as possible.
Related Content: How Smart Is Your Help Desk?
Knowledge Development
Help desk personnel need technical knowledge. Experience teaches some skills, but other problems are resolved by having the necessary information available and easily found.
4. Maintain a Knowledge Base
A knowledge base is a comprehensive (and searchable!) record of the organization's experience. It includes troubleshooting guides, deployment practices, configuration requirements, frequent questions and more. Help desk personnel use the knowledge base extensively, so ensure it's current, accurate and easy to work with. Often, customers can find the answers to their questions via their own knowledge base resources.
5. Utilize a Ticketing System
A ticketing system is the help desk's foundation. It tracks tickets, prioritizes issues, assigns tasks to the support staff, maintains performance information and helps you discover repetitive or consistent problems. Make sure your organization has a good ticketing system and the team knows how to get the most from it.
6. Prepare Help Desk Staff
Is your help desk staff qualified to accomplish its responsibilities? Do support technicians have the privileges needed to help customers and relieve stress on higher-level support teams? For example, Microsoft Active Directory allows administrators to delegate privileges such as password resets to the help desk members. Examine the tickets that get escalated most often and see whether there are straightforward tasks the help desk team could take on that really don't need to be escalated.
Related Blog: 8 Challenges for the Help Desk in 2023
A Culture of Service
Communication and knowledge govern the help desk team. However, the team also develops a culture that influences members. Think of this as the team's attitude toward its role in servicing customers (who are usually your fellow employees). Building a sense of proactive support and continuous improvement enables members to see themselves as increasing the organization's efficiency. Following up on recent help desk tickets in a friendly manner is one way of maintaining a good relationship with your customers.
7. Foster Improvement
Build an appreciation for a sense of improvement and growth. Your individual help desk staff members might focus on particular areas—such as technical skills or communication—while the help desk team as a whole emphasizes efficiency and timeliness.
8. Emphasize Personalized Service
Establishing a relationship with your customers improves communication and smooths over the difficulties the user may be experiencing. Encourage help desk staff to approach customers in a professional but friendly manner. One can be efficient and effective while also being approachable.
9. Offer Proactive Support
Being proactive on potential support issues could fall under the umbrella of communication or knowledge, but in many ways, it's a cultural thing within the help desk team. The idea is to increase efficiency by resolving issues before they become help desk tickets. However, it's also about customer service, preventing your users from having problems or questions in the first place. Proactive support can head off user frustration before it even begins.
10. Provide Follow-Ups
Foster a sense of responsibility for the ticket's entire lifecycle. This includes following up with customers, particularly users that had serious issues that prevented them from working or that generated a high degree of stress. A quick email, phone call or chat message helps ensure the issue is resolved.
More Than a Body of Technical Knowledge
Help desk teams that strive for good communication, strong knowledge and an attitude of service will excel. The organization and its users rely on this team as a go-between for the technical staff and the rest of the company. Whether it be hardware problems, issues with applications, service requests or just a simple password reset, the help desk is where the employees turn for any kind of issue.
Think of the company's employees as customers to encourage a customer service stance. The help desk is more than a body of technical knowledge. Your team members have strong communication skills and empathy for the users requesting help. These 10 tips will help launch an existing help desk toward success or lay the foundation for a fledgling help desk's first support ticket.
Get career advice like this right in your inbox with CompTIA's IT Career Newsletter. Subscribe today, and you can save 10% off your next CompTIA purchase.