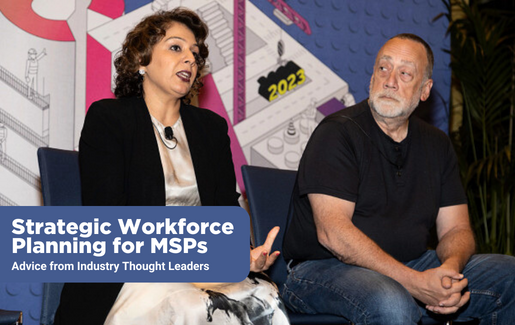 For small to medium-sized MSPs, maintaining a healthy talent pipeline is an ongoing and pressing challenge. During a panel discussion at ChannelCon 2023, a group of industry experts dove into the key human resource management, talent recruitment and development issues impacting MSPs. Here's a look at what they had to say.
Human Resources, Leadership and Culture
According to a recent CompTIA survey, a majority of small to medium-sized MSPs rank themselves in the average category when it comes to how they handle the function of HR in their organizations.
"When we defined [human resources (HR)], it is everything from hiring people, filling those open positions, keeping your pipeline of talent filled and then holding onto people, which is a whole other issue that a lot of [small to medium-sized MSPs] are facing right now," said Carolyn April, senior director, industry analysis, CompTIA.
But, if you're saying that HR is responsible for all of your retention efforts, that's not the case, explained Kam Kaila, president, IT By Design.
"HR is making sure that you've completed all of your policies, you have all your paperwork, they're making sure that they're connecting with the employee, and if there's a problem, they're helping to support it," she said. "But it's not their job to keep your people happy, it's your leader's job to keep your people happy."
Part of keeping employees happy is ensuring that you're putting adequate resources toward developing your employees, helping them grow and building a strong culture within your organization, explained Bob Coppedge, CEO, Simplex-IT.
"It's up to everybody, not just management or leadership to understand our culture. To understand what our core values are," he said.
But having a strong culture also relies on building strong teams, made up of the right people and being able to engage them.
"If you want to keep your people happy, then the starting point is finding the right people in the first place," April said. "So, your process for looking for people, filling that sound pipeline, you have to make sure they match with your culture."
Finding the Right People
If creating a strong team starts with finding the right people in the first place, how do you go about doing that?
"Always be hiring, always, always, always. I can tell you there have been people we've had an eye on that we've hired two years later and brought them on board," Coppedge said. "Number two, know who won't work. I don't mean this as in they'll be a bad employee, they just might not be a good fit."
When looking for the right people, Kaila explained that she looks for a culture fit.
"And one of the things we've found a lot of success with is that we've also put a diversity statement at the bottom of our job ads," she said. "It is proven research that women and people of color will only apply to jobs if they meet 100% of the criteria. And so, by putting a small, little diversity statement that says that we understand that women and people of color will not apply to a job ad unless they meet 100% of the goals, we want you to apply. That has tripled the number of applicants we have."
Over and above always hiring, understanding what type of candidate fits your culture and championing diversity, it can also benefit your business to treat talent recruitment like a marketing engine, Kaila explained.
"Take a look at your website, it's not just for you to attract customers, it's also for you to attract talent," she said. "Most good [candidates] are going to check your website. So, make sure that especially if you're trying to attract diverse talent, you have real people and maybe a page about culture at our organization so that people can see, because they want to go somewhere they feel included."
And while finding the right people for your organization is a key part of building a strong talent pipeline, so is ensuring that this entire process is driven by your culture and your values.
"Our values drive our hiring. But your values also have to drive your firing," Kaila said. "Because the last thing you want is for people within your organization to see that you talk value, you talk a good game, but you allow someone who compromises your values to stay within your organization because you're not living your values."
Growing Your Business From Within
For any MSP hoping for growth, there is no doubt that hiring employees to support that growth is on their mind. However, filling these positions doesn't always have to happen via external hiring.
"One of the things in promoting a good culture I have to believe is showing current employees that they have a path to promotion, and they have a path to move up in the organization," April said.
But it is also important to ensure that when you are promoting from within that those individuals have the proper skills to thrive in their new roles.
"You have to make time and the investment in your leaders before you let them grow within the organization, they have to be ready to serve," Kaila said. "We do hire from within, we do promote from within, but we list minimum standards. In order to qualify for [a new role] you have to meet these criteria. And here is training and mechanism for you if you'd like to get there."
While hiring and promoting from within can be a valuable option for any growing organization looking to fill open job roles, just because someone is the most senior person doesn't always mean they have the skills and competencies needed to be an effective leader.
By understanding your employees' strengths, weaknesses and short-term and long-term goals, you can ensure that you set them – and your entire organization – up for success.
Keep Up with the Latest News from ChannelCon 2023