You think your life is hard? Try earning a living as a bounty hunter and being chased through space after you decide not to honor your contract because it's more important to protect the little fellow you were supposed to deliver from the guy who paid you.
That's the life of Din Djarin, the title character in "The Mandalorian," when we meet him.
Of course, "The Mandalorian" is fiction, and your life is reality. That makes a big difference. But that doesn't mean you can't learn some valuable life lessons from the Disney+ hit show, now streaming in its second season (with more to come).
Try on the following ideas for size.
1. Sometimes You Have to Adapt
When Din Djarin had to choose between fulfilling his contract and protecting Grogu (aka Baby Yoda), he decided to take the little green guy under his wing. Unfortunately, that cost him his job, so he had to adapt.
Job security isn't guaranteed these days, so you may have to adapt, too. That might involve looking into a new career, finding a second job to supplement your income or making yourself more valuable to your current employer by seeking out additional training. Whichever way you decide to go, it's a good idea to expand your skill set.
Technology jobs are growing faster than we can keep up. If you have an interest in technology, consider getting certified to validate your skills and break into the IT industry. CompTIA has formed a one-stop shop for IT pros to study for and earn their certifications. Whether you prefer to study on your own or take a class, CompTIA has options that fit several different learning types and schedules. And because CompTIA official training is developed with our exams in mind, you can expect high-quality learning materials.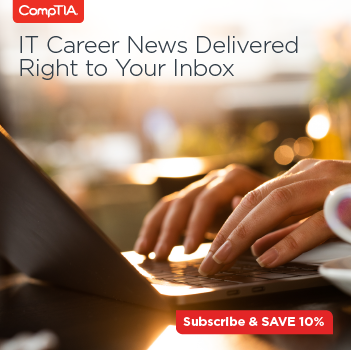 In terms of IT certifications, consider CompTIA A+ if you're looking for an entry-level job. CompTIA A+ is the industry standard for establishing a career in IT. Or, if you're already in IT and looking to advance your career, check out the CompTIA certifications related to cybersecurity, IT infrastructure and project management. Learn more about all of our certifications to figure out which one is right for you.  
The point is, you can always improve and expand your knowledge base, which will make you more marketable to employers.
2. It's A Good Idea to Protect Your Assets
When Din Djarin decides to protect Grogu from those who are chasing him, it becomes his main mission – Grogu is his asset.
In the world of technology, we call the act of protecting our assets cybersecurity. The need for innovative cybersecurity only grows as technology evolves. Hackers are good at coming up with new ways to breach systems, and when the bad guys get good at what they do, the good guys need to be better.
It's no surprise that there's more than 500,000 job postings for open cybersecurity positions in the United States. The good news is, once you have the skills, it's likely you'll be able to find a job. Companies are looking for candidates who have an area of expertise, take initiative and can validate their skills.
If you already have some technical skills under your belt, the first step is discovering how your knowledge transfers to the cybersecurity field. For example, if you understand code, you'll be able to identify and protect against malicious code.
While technical skills are important, professional skills also play a part. There are quite a few of these skills that can make you an IT rock star. Skills like communication, organization, analytical abilities, problem solving and curiosity all make for a great cybersecurity professional.
The second step is to determine what you need to learn. Most cybersecurity jobs require some type of formal training. Certifications like CompTIA Security+ provide the foundational knowledge you need to get started. Check out the CompTIA Cybersecurity Career Pathway for options at all experience levels.
3. It's Important to Stay True to Yourself
Mandalorians live by a strict code that allows them to build a reputation and gain trust. When you hire a Mandalorian to do a job, you know he'll follow through.
But as the saying goes, there are exceptions to every rule, and sometimes your personal ethics have to outweigh your social code — even though you know it may cost you. Din Djarin chooses to protect Grogu even though he knows it will mean breaking his contract. You should be willing to do the same.
That doesn't mean you ought to go around signing contracts and then breaking them. What it does mean is that you should read the fine print first and make sure any agreement you undertake doesn't violate your ethics or compromise who you are as a person.
Loyalty only goes so far, and it needs to go both ways. When Din Djarin learns that Grogu is in danger, he decides to protect him rather than honoring his contract. If your employer isn't dealing with you fairly, you have every right to seek out new employment. Don't sacrifice yourself for the sake of someone who uses your code of honor to take advantage of you.
You may not have a little green 50-year-old baby to protect, but you do have your integrity and security to safeguard. The decisions Din Djarin makes in "The Mandalorian" can serve as inspiration for your own life if you know where to look and how to apply them.
May the Force be with you.
Get more tech insights like this right in your inbox with CompTIA's IT Career Newsletter. Subscribe today, and you can save 10% off your next CompTIA purchase.
---
This article was contributed by Jessica Larson of SolopreneurJournal.com.