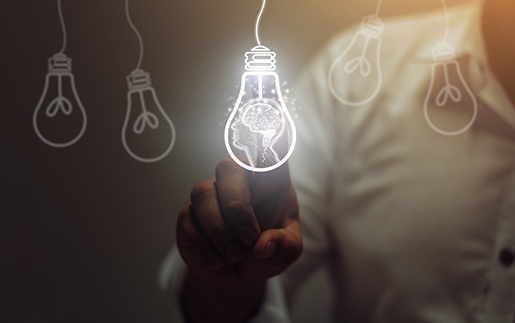 When it comes to analyzing your team's sales compensation plans, or figuring out where your latest marketing campaign went awry, or what new security tools could help you protect your clients, wouldn't it be great to ask a genius? CompTIA corporate members will get that chance leading into the organization's Communities & Councils Forum, March 16-17.
Expanding on the success of Genius Café sessions in recent EMEA events, CompTIA has recruited a cadre of experts in four fields—sales, marketing, video marketing and cybersecurity—to answer questions and give advice in one-on-one 25-minute sessions. The meetings quickly sell out in EMEA, so interested corporate members are advised to schedule a session for CCF because space is limited.
Earlier this year, CompTIA piloted the platform for some US members, several of whom extolled the value they got from the meetings. "The Genius Café is another great perk for being a CompTIA Member. To spend 25-30 minutes with a top expert to get your tough questions answered is priceless," said Corey Kirkendoll, president and CEO of 5K Technical Services.
For CCF sessions, Kirkendoll advised members to come prepared with several prioritized questions in order to maximize their time with a genius. "Just remember you get out what you put in. Have a plan and I assure you that you will not be disappointed. I got great advice, and some I implemented right after the call. It was that easy to do and relevant to help us succeed in a real-life marketing issue we were facing."
Learn from Experienced Experts
The advice-driven concept of the Genius Café is much needed within the MSP community, whose leaders tend to have technical backgrounds—not sales and marketing, said Chris Wiser, founder and CEO 7 Figure MSP, which advises managed service providers. Wiser is scheduled to be a "marketing genius" at CCF and said the best advice he ever received was to focus on the sales and marketing process, not just the technology.
"I'm trying to help MSPs or IT service providers make sure their processes are in order and that they're charging a proper amount. You could be given a perfect lead and still sell it improperly, which only accentuates issues with cash flow, scale, productivity," Wiser said.
Jhovanny Rodriguez, vice president and co-founder of GreenLink Networks, Addison, Tex., and founder of Synetek Solutions, has ample experience as an MSP and selling to MSPs. As one of the sales geniuses volunteering for the CCF sessions, he's ready to help MSPs avoid simple mistakes that could improve their business.
Among the common mistakes he often sees are MSPs "winging it," i.e., selling without any formalized strategy or process. "Whether you're generating sales through lead generation or referrals or word of mouth, there needs to be a defined system of what to do—and not to do—when you get a lead," Rodriguez said.
Another tip: take a personal approach on follow-ups with customers. "I see a lot of MSPs who have a great customer meeting, then go back to the office and email a proposal and never hear back," Rodriguez said. "A customer many interpret an email pitch differently than you intended. Email proposals focus more on the number, not on the value you are providing."
On the marketing side, Brendan Turner, president and CEO of Turner Techtronics, lauded his marketing genius from the recent genius café pilot sessions for helping him strategize how to target into new industries.
"My organization struggles with breaking into and marketing to new market verticals such as healthcare and finance. [The genius I talked to] was very knowledgeable and provided great insight and vertical specific ideas for our website and marketing program which I will share and implement with our sales team," Turner said.
Meanwhile, video marketing is a very underused digital marketing resource for MSPs, but it's one that can be very successful, said Michelle Ragusa-McBain, vice president of global channel strategy at JS Group and a video marketing genius for the CCF sessions. According to a recent IDC study, 75% of clients look for up to five pieces of content before they even SPEAK with a sales representative.
"One of the top pieces of content which they seek is video, such as customer testimonials, demos, etc.," she said. "Video helps differentiate you from the competition and can be used in multiple ways as a real game changer to connect, educate, differentiate, and build authentic relationships with your customers and prospects."
Come for the Advice, Stay for the Member Networking
Other common questions and themes from the recent pilot include: Is LinkedIn a worthy tool for MSPs, and should MSP leaders do their own marketing? The consensus: it depends on your customer base—larger customers tend to use LinkedIn while small, local businesses focus more on Facebook; and unless you have a strong marketing background, it's probably better to bring in an expert to help with messaging.
Overall, the geniuses said they're looking forward to imparting some of the best advice they've ever received: be quiet and listen to the customer.
"Sometimes we salespeople think we can convince anybody of anything by spewing out all kinds of stuff. But if you show real interest in what the customer is saying, they'll spill their beans. Every business owner loves to talk about their business, the thing they created. If you say, 'Tell me how you created this beauty,' you can sit back and hear so many things to bring back later into the conversation. It's so tempting to spend that first meeting presenting, but you'll do yourself a favor by letting them do the talking."
It's critically important to ask your customer questions to not only understand what your mission is, but why, said Ragusa-McBain.
"So many people throw spaghetti against the wall hoping it will stick, without truly understanding their target audience or their pain points of their clients," she said. "We have lived through social distancing, quarantine, lock down and masks, it is important—now more than ever—to leverage video to connect with and speak to your clients. Create a memorable and consistent message of communication. They will listen to your messages and follow the breadcrumbs back to you."
Genius Café sessions are a great way to get answers to pressing business questions, but also a chance to meet new connections, not unlike the other content sessions and meetings at CCF, Rodriguez said.
"These events generally have vendors trying to collaborate with MSPs in a non-salesy way. That is a great place to create relationships," he said. "I'm looking forward to seeing more collaboration between communities too. That's something I'm excited about."
For more information on the Genius Café or to reserve a spot, visit the session page in the CCF agenda.