IT Salaries and Career Opportunities Continue to Grow
70% of measured IT job titles show an upward trend in median salary.
IT Job Opportunities
From IT support and networking to project management and cybersecurity, opportunities are plentiful throughout the IT industry.
Demand for computer support specialists is at nearly 21,000 and has been above 20,000 for five consecutive months. The number of computer support specialist positions has increased more than 30% since the beginning of the year.
Careers in data management are experiencing major growth as well. Job postings for data analysts are up more than 20% from January, to more than 8,000. While data engineers, data scientists and data warehousing specialists are all up by approximately 50% since the end of 2020. Combined, there were more than 18,000 data-related job postings in September.
If you're looking for your next IT support role, or trying to plan the next step in your cybersecurity career, be sure to sign up for job alerts from ZipRecruiter. Not sure about your next move? Check out the CompTIA Career Roadmap to help you decide the best path for your IT career journey.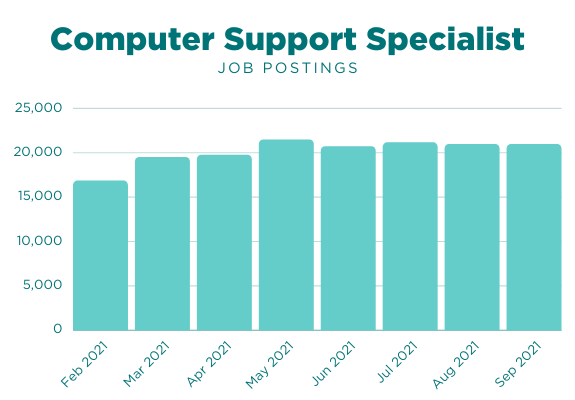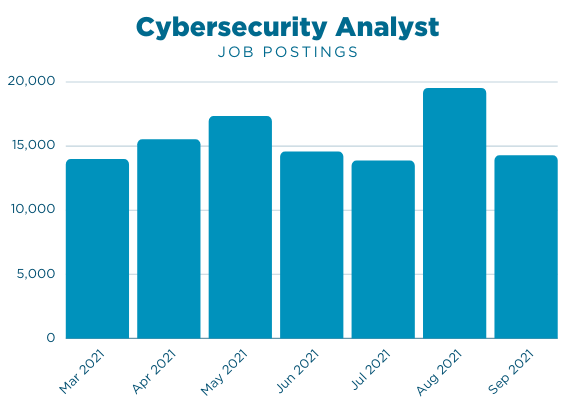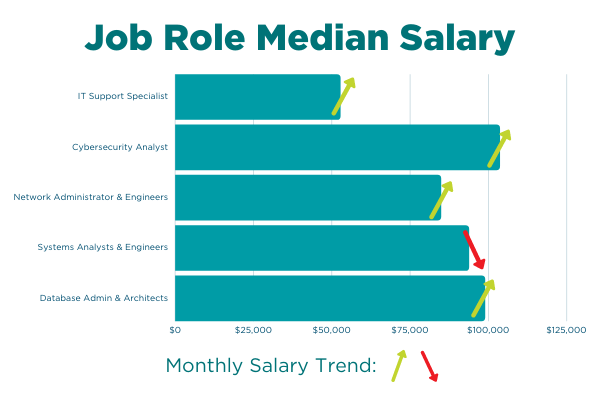 Not only is there a growing demand for tech workers, but there's also increasing demand for new skills. More than 90,000 job postings included a need for cloud skills. This is an increase of more than 30% since the end of 2020. Demand for network configuration skills has also grown from August to more than 45,000 postings in September.
Looking to grow in your career? Now is a great time to upskill. If you're interested in moving into the cloud, or looking to test the waters in IT, get started with a free trial of CompTIA CertMaster Learn and Labs for a number of CompTIA certifications. If you simply want to test your current skills, check out CompTIA CertMaster Practice and see if you have what it takes to move up to the next level.
There's room for everyone in IT. Get the skills and confidence you need to succeed with CompTIA Tech Career Academy.
Start now.
IT Career Salaries
Everybody wants to earn more money. Careers in IT can be very lucrative. Tech salaries are growing and offer great stability in the current job market. For example, the median salary of a computer support specialist is trending upward, along with seven other job categories covered. Use the CompTIA IT Salary Calculator to see IT salaries in your area and know your worth when searching for new opportunities.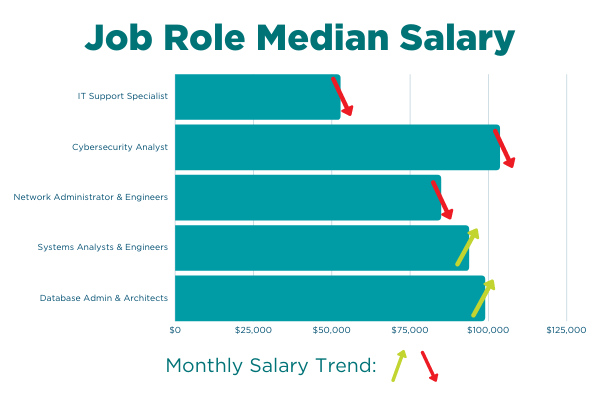 Check back each month for updated job posting and salary data to help you track your next move. We'll make it easy and send updates right to your inbox. Subscribe today to stay on top of CompTIA's IT Career News. As a thank you, we'll give you 10% off your next purchase.
Because monthly job posting data may be subject to higher levels of volatility and revisions, CompTIA recommends caution in using monthly data without proper context. See the methodology of the CompTIA Tech Jobs Report for more details.
The CompTIA Tech Jobs Report is available here.