You may have heard that cybersecurity jobs are in demand. But did you know that your experience as an IT systems administrator makes you a great candidate for a cybersecurity position?
Per Cyberseek, employers across the spectrum of industries in the United States have posted nearly half a million cybersecurity job openings in recent months, and systems administration experience is among the top five general tech skills these employers seek.
Jason Hernandez knows this firsthand. Hernandez recently started a new position as an IT security specialist for a global provider of website analytics. The company is based in Copenhagen, Denmark, and he describes part of his responsibilities as being the eyes and ears for the organization in North America.
Describing his new work as more conceptual, analytical and advisory than previous jobs, Hernandez said he will be assessing and evaluating the organization's overall configurations and practices to gauge their security against baseline standards. It's a mix of maintaining security operations for local infrastructure and reassuring customers and vendors of the company's sound security practices.
"If you're a customer or partner of ours, you can trust us with your data," he said. "Because I think that's the one thing most people are concerned about today."
How CompTIA Training and Certifications Can Prepare You for a Cybersecurity Career
A graduate of the IT-Ready Technical Support training program (now part of the CompTIA Tech Career Academy), Hernandez holds multiple CompTIA certifications, including several along the CompTIA Cybersecurity Career Pathway.
Hernandez launched his IT career at the IT help desk for Medtronic, an international medical technology company. From there, he landed a systems administration position with a public school district in Minnesota's Twin Cities region. One of his responsibilities was Mac administration for about 14,000 devices used by students and teachers in schools and other facilities across the district.
"A systems administrator's main role is to find efficiencies, eliminate clutter, streamline systems and make the user experience seamless, from the first time they encounter your technology to when they leave," Hernandez said. In fact, systems administration was his favorite IT job, until advancing to a role specializing in cybersecurity.
"I had tremendous exposure to numerous systems and tools, and broad exposure to lots of different concepts and vendor tools that I was using every day," he said. "Everything from Office 365 to specialized security tools, vulnerability scanning and web content filters for our students."
Hernandez believes systems administration is valuable experience for IT pros – especially for those interested in cybersecurity.
"The two-and-a-half years I had in that role was pivotal for my career," he said.
Read More of Jason Hernandez' Technologist Success Story
Before launching his technology career, Jason Hernandez was a professional musician. Plus, the CompTIA Tech Career Academy recently named him inaugural chair of its National Alumni Advisory Council. Read more here:
How Constant Learning in Systems Administration Can Prep You for a Cybersecurity Career
Hernandez now considers his time as a systems administrator the cornerstone of his cybersecurity skills.
"As a systems administrator, I was safeguarding the private data of many, many users. At the same time, I was also involved in investigations of fraudulent activities, breaches and impersonation attacks," he said. "I had a chance to deal with some really complex, confidential issues that typically you don't get exposure to in a help desk or tech support role."
Continual learning is a huge part of a systems administrator's role, Hernandez says. The job requires continuing education through webinars, classes, newsflashes and IT certifications. He believes this type of ongoing professional development is increasingly vital in cybersecurity, as security risks and threats to individuals and businesses continuously evolve.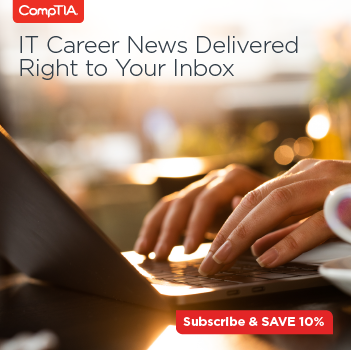 For this reason, Hernandez has pursued CompTIA certifications throughout his tech career, starting with CompTIA A+ and continuing through CompTIA Network+, CompTIA Security+, CompTIA Cloud Essentials+ and others specializing in IT infrastructure, operations and analytics. He also earned CompTIA's Cybersecurity Analyst (CySA+) certification, which helped him land his new position.
Certifications prove your IT competency to employers, he said. And he believes he's walking proof, saying each  new certification he has earned has contributed to his professional or financial growth, especially during the past five years.
"In 2016, I went into [IT-Ready] with no concrete technology experience on my resume," Hernandez said. "It's now 2021, and I'm moving into a well-compensated security role with a global company. If you'd asked me then if that would be my life trajectory, I wouldn't have believed you, but it is literally attainable."
Are you a systems administrator looking to get into cybersecurity? The CompTIA Cybersecurity Career Pathway can help you get there. Download the exam objectives to see which one is right for you.