As a senior systems engineer at Cubic Transportation Systems, Lalitha Ande works on complicated tech deployments that require numerous international partners and teams to see through to completion. Her most recent project involves defining the cryptographic keys and building out key management systems that make secure, contactless payment possible at public transportation terminals throughout the United States. In order for her to play her role in this complex process, it's critical that she sees and understands the whole technological picture.
"It's not just one aspect of the design," Ande said. "You have to understand all aspects of the design, from the specifications and requirements to writing the system function and designs, and then defining those requirements. Then you have to work with the software and hardware guys to communicate the requirements we need to meet for the customer."
An impressively varied tech career, spanning decades, prepared Ande for this type of collaboration. She has worked on hardware at the most granular level, designing, engineering and building varied components in a number of different industries. In doing so, at each step, she has added new skills to her arsenal.
But for all her accumulated expertise, reaching this point in her career has not been without challenges. While the hard tech stuff comes quite naturally to Ande, navigating the UK job market, when she relocated, came with a learning curve.
Preparing for a Serious Tech Career
Growing up in Andhra Pradesh, India, Ande was not surrounded by computing technology, but the technology she did encounter interested her. While she did not spend her childhood opening up the radio or the television to see what made them tick, she had a natural curiosity.
It was uncommon in the early 1990s for a woman in India to pursue an education in technology. Ande, however, was surrounded by a supportive extended family. She had a number of cousins working in engineering, and her father always encouraged her to explore her interests, whatever they may be.
Beginning at Jawaharlal Nehru Technological University in 1992, she jumped at the chance to dig into the foundational building blocks of the tech gadgets growing ever more common in daily life. She decided to study electronics and communications engineering.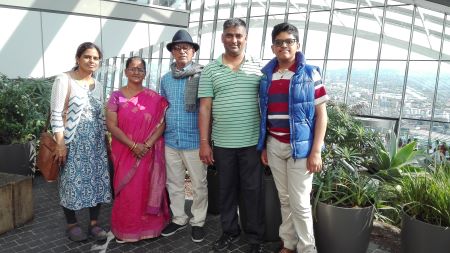 Shortly after graduating in 1996, Ande started a job as a research engineer at the Centre for Development of Telematics located in Bangalore. She spent more than a decade working at this government-operated research and development firm. Ande moved up the ranks there, addressing the diverse, growing hardware needs of the booming telecom world – component by component.
By the time she and her husband left India for the UK in 2007, Ande had a ton of electronics engineering and hardware design acumen. But skills alone proved to be just one piece of the puzzle in succeeding in her new home.
Modifying the Mindset in a New Job Market
When Ande arrived in the UK, the tech job landscape, impacted heavily by the global economic crisis, was flagging. Even her highly sought-after hard tech skills did not assure she would land a role. Despite her impressive resume, she was hitting walls in her job search.
Ande's approach, learned in India's quite different job market, was unknowingly putting her at a disadvantage. In India at the time, it was obligatory to treat a resume as a full chronicle of a person's job history. But UK employers were looking for a more tailored, curated listing of skills and work applicable to the desired role.
But it wasn't just her resume that needed some tweaks. Ande found she also required a shift in attitude. Reserved by nature, she was not the type to publicly trumpet her vast range of tech skills, impressive as they were. In the UK job market, though, selling a potential employer on your ability, loudly and confidently, is key. Also unfamiliar to Ande was not letting a single new or challenging skill requirement prevent you from applying for a job.
"If you're confident that you can do the job, you should go for it," Ande said.
And she certainly had the skills to back up her newfound confidence. Approaching the job market with a new mindset made all the difference.
With a newfound attitude, Ande soon began a new job at mobile device manufacturer ST-Ericsson as a hardware design engineer. She worked there until moving to Elekta in 2012, where she worked on machines used for cancer treatment.
Designing more machines and working on new components across an even more eclectic range of industries during these years prepared her for the future. Shortly after the pandemic began, Ande moved into her role at Cubic that would utilize everything she had learned to set down infrastructure, build out flows of information and facilitate secure, convenient usage. 
Bringing Together an Eclectic Skillset
Due to the pandemic, Ande has yet to spend time in Cubic's physical office or travel abroad to meet with clients. She has also not been able to visit STEM classrooms, as she was doing before, to show UK students the opportunities for women in the tech workforce.
As she awaits her return to those more personal aspects of working life, she nevertheless is enjoying the role, in which she has the satisfaction of bringing together a career's worth of technology knowledge to make full systems function.
A varied skillset can be vital to moving up in the tech world for this very reason. It's this way of learning and working that CompTIA certifications facilitate. Studying for certification exams require learning the full, vendor-neutral picture of how all the technology in a given skills area functions together to keep a business working smoothly.
And CompTIA-certified IT pros rarely stop at just one certification. When they see just how job-ready IT certifications make their resume, they start stacking them up, building across-the-board competency to make them a surefire hit with any employer. 
And so those who love accumulating tech skills and knowledge can learn a lot from Ande's rise in the profession – where confidence in combination with a full slate of tech knowhow has set her up to master any challenge thrown her way – and have a good time doing it.
"Every time I change my domain, it's a risk," Ande said. "But then, I take on the challenge to learn new technology, so I don't really get bored. I get the good and bad of different experiences, right? That's one thing I enjoy."
Get more success stories like Lalitha Ande's, IT career advice and tech tips sent straight to your inbox with CompTIA's IT Career News. Sign up today and get 10% off your next CompTIA purchase.
Matthew Stern is a freelance writer based in Chicago who covers information technology, retail and various other topics and industries.