While a job at the help desk is a great way to launch a tech career, it's usually a stepping stone to something bigger and better. Traditionally, that meant spending a few years in an IT support role and then being promoted to network administrator and server administrator. But nowadays, experience in an IT support role no longer means your only pathway is IT infrastructure. In fact, CompTIA research reveals interesting breaks from traditional career paths for workers after the help desk.
"One of the most interesting things that came out of our research is that companies are saying they're sending their help desk technicians into careers across all four of the IT pillars," said Seth Robinson, senior director, technical analysis at CompTIA.
Those pillars include infrastructure, cybersecurity, data and software development. If you feel like you're stuck at the help desk, check out your options and determine what you need to do to make your next move.
The Traditional Pathway: Infrastructure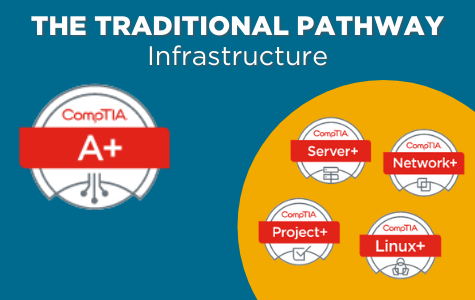 There's a good reason most IT support pros transition into a role in IT infrastructure – it makes perfect sense. Understanding how IT systems work from the inside out is the foundational knowledge you need to successfully continue along the IT infrastructure pathway. But even along this more traditional path, there are some interesting options that may interest you.
CompTIA A+ > CompTIA Network+
Earning CompTIA Network+ after CompTIA A+ is the conventional progression. The information you master to become CompTIA A+ certified builds into CompTIA Network+. With both of these certifications under your belt, you earn the CompTIA Stackable Certification CompTIA IT Operations Specialist (CIOS) – put that on your resume!
Having this stackable cert shows potential employers you have the skills required to analyze business operations, manage the flow of a workplace and identify customer needs. This more traditional pathway opens the door to job roles like network support technician and junior system administrator.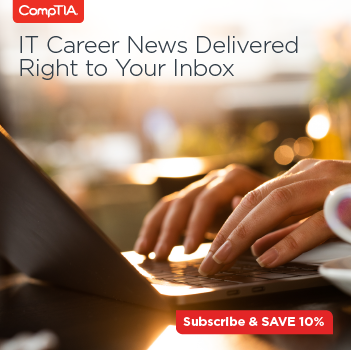 CompTIA A+ > CompTIA Server+
If you're a methodical thinker who's good at monitoring processes and making sure everything runs smoothly, then CompTIA Server+ may be a good next step for you. It ensures IT pros have the skills needed to work in data centers or cloud environments.
CompTIA Server+ is a good choice for someone looking to move up from the help desk because it is the only server certification not restricted to a single platform. That means you have more opportunity as you'll be qualified to get the job done in any environment. Earning CompTIA Server+ covers the skills needed by a server administrator.
CompTIA A+ > CompTIA Linux+
Linux has become a core skill for IT professionals. This open-source operating system is quietly running nearly all supercomputers and cloud servers that power our daily lives. If Linux is your jam, CompTIA Linux+ is the natural next step.
CompTIA Linux+ validates the competencies required of an early-career IT pro supporting Linux systems. This credential is the only job-focused Linux certification that covers the foundational skills that hiring managers demand. Placing an emphasis on Linux skills can win you a job as a Linux administrator, systems administrator, network administrator or web administrator.
CompTIA A+ > CompTIA Project+
Like in any field, there teams of IT pros will work together on projects. For those to go smoothly, someone needs to take charge and oversee the project. If you have excellent communication skills and a natural ability to lead, CompTIA Project+ could be a natural progression for you.
CompTIA Project+ gives business professionals the basic concepts to successfully manage small- to medium-sized projects. Being CompTIA A+-certified provides a strong foundation for this role. An IT project manager should have extensive knowledge of technology set realistic expectations for projects.
Learn the Skills You Need for Your Next Move
Before you get certified, you need to study. And if you're embarking on a new field, you may have to learn some new concepts. Don't worry – CompTIA offers training solutions for its certifications.
Options vary based on certification, but most include the following:
After you decide which certification is right for you, head on over to the CompTIA Store to select a training product or bundle to help you study. Bundles always include a free retake voucher just in case you need a second chance.
The In-Demand Pathway: Cybersecurity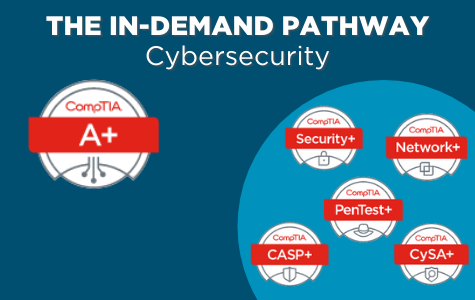 Jobs in cybersecurity are growing by the day. While many existing roles are unfilled due to a lack of qualified candidates, there are also newly-created positions that have been developed to meet the needs of new and emerging technologies. Working at the help desk is a great way to begin a career in cybersecurity. For one, the help desk gives you the opportunity to work with end users. And working with and training end users is a big part of keeping an organization secure. 
CompTIA A+ > CompTIA Network+ > CompTIA Security+
Baseline cybersecurity skills are applicable across more of today's job roles as companies search for qualified IT pros to secure their systems, software and hardware. Adding CompTIA Security+ to your resume shows employers that you can perform these core security functions – and launch your IT security career.
Jobs like security administrator, security analyst, systems administrator and network engineer are just some of the job roles you can land with these certifications. If you hold these three certifications, be sure to market yourself as a CompTIA Secure Infrastructure Specialist (CSIS)!
Add CompTIA CySA+ or CompTIA PenTest+
The CompTIA Cybersecurity Career Pathway can take you in many different directions. After earning CompTIA Security+, you have some options. Adding CompTIA Cybersecurity Analyst (CySA+) or CompTIA PenTest+ will take your career to the next level.
CompTIA CySA+ assesses the skills needed to apply behavior analytics to networks to improve the overall state of IT security. With CompTIA CySA+ you can apply for jobs like cybersecurity engineer or application security analyst.
CompTIA PenTest+ is intended for cybersecurity professionals like penetration testers and vulnerability analysts who are tasked with scanning, identifying, exploiting, reporting and managing vulnerabilities on a network.
The New Pathway: Data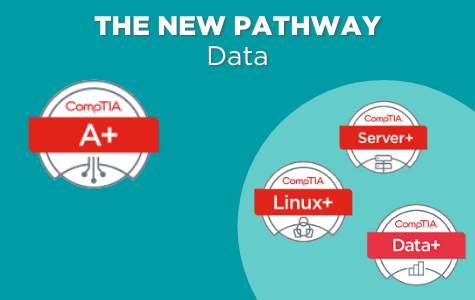 Having a strong knowledge of hardware and software and troubleshooting was never really par for the course when it comes to managing and analyzing data. But then again, data as a career is a relatively new concept.
As companies continue to collect data, having a qualified IT pro on staff that knows exactly how to extrapolate, analyze and secure this information is becoming more and more important. And as careers in data start to expand, so does the opportunity for those coming from the help desk.
CompTIA A+ > CompTIA Server+
A great way to get into the data scene is by harnessing your technician skills inside the data center. Data center technicians provide an array of technical support to an organization's data center by ensuring the servers are running consistently and smoothly.
IT certifications like CompTIA A+ and CompTIA Server+ will show employers that you have the expected knowledge and skills to succeed as a data center technician.
CompTIA A+ > CompTIA Linux+
Interpreting raw data and turning it into usable feedback and applications is a vital part of any company, and why organizations are now hiring data scientists. If you have a sharp, analytical mind with a propensity for numbers and an interest in programming, this specialization may be the right fit for you.
A data scientist needs to have a general understanding of computer science as well as Linux. CompTIA Linux+ validates your Linux skills so employers know you have the skills to make the most out of their data science tools.
CompTIA A+ > CompTIA Data+
A natural step up from the help desk may be a data specialist. This role is tasked with overseeing the development of new databases, monitoring database performance, and interpreting raw data and turning it into usable feedback and applications.
A great addition to CompTIA A+ (or CompTIA ITF+) in this field would be CompTIA Data+. This new certification, launching in 2022, and its full suite of training solutions will prove you have the skills needed for data analysis, data mining, data visualization, and understanding data concepts and environments.
The Unconventional Pathway: Software Development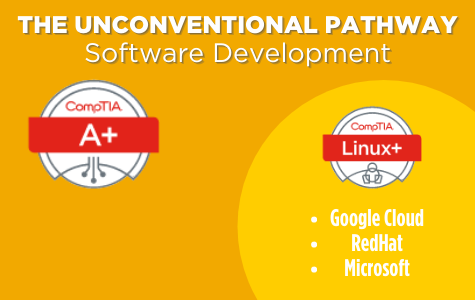 Just because it's unconventional doesn't mean it's wrong! One of the perks of starting your IT career at the help desk is your exposure to the many pathways technology can take you in your career. Software development is one of those pathways – and while having the hardware expertise may not be a prerequisite, knowing more is always better than not knowing enough. Here's how you can leverage your experience at the help desk as your transition to software development.
CompTIA A+ > CompTIA Linux+
If you like to code, design and create, put that passion to use as a web administrator. Web administrators design, develop, maintain and troubleshoot websites. Most importantly, they ensure a safe and efficient user experience.
The most common requirement is an associate's degree in web design or a similar field. Of course, any combination of CompTIA A+, CompTIA Network+ or CompTIA Security+ will provide an understanding of operating systems, devices and networks and how to secure them. CompTIA Linux+, in particular, will supplement your knowledge of programming languages and open-source operating systems.
CompTIA A+ > Partner Certifications
Software and web developers are the creative minds behind computer programs and websites. These IT pros must identify the core functionalities that users need – making your experience at the help desk that more valuable.
Since web developers are responsible for both the design of the site as well as the site's technical aspects, this role requires IT knowledge and customer-facing skills. A great addition to CompTIA A+ (or CompTIA ITF+) would be Google Cloud, RedHat or Microsoft certifications.
There are so many paths a technology career can take – and many of them intertwine. Choosing a pathway is never completely set in stone. Use your time at the help desk to observe, ask questions and learn what it is that you're passionate about. Then, take that knowledge, put a plan into place and take your career to the next level.
Ready to take the next step in your IT career? Choose your next certification and download the exam objectives for free to get started.