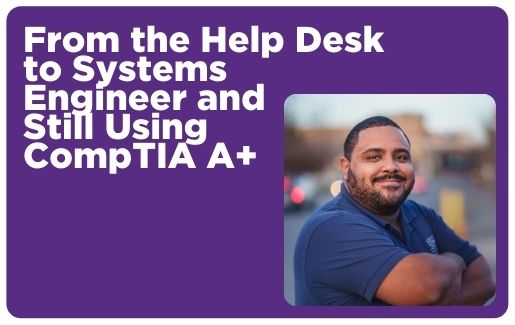 For more than 15 years, almost every day at work has provided a new, interesting, challenge for Girard Kavelines. And for Kavelines, that is not a bad thing. It is quite the opposite.
The variety of tasks that he is called upon to address as an IT professional, the variety of skills that the role demands and the constant opportunity to learn something new on the job is, for Kavelines, what makes a career in IT a perennial source of satisfaction.
"[In IT you are] always learning new technologies and troubleshooting different issues to see what works and what doesn't," Kavelines said. "You always have a challenge awaiting you."
An enthusiasm for overcoming technological challenges was the driving force behind Kavelines' interest in technology. That enthusiasm led him to earn CompTIA A+, move up in the field beyond the help desk and pursue a career not just as a tech pro, but as a tech evangelist who eats, sleeps and breathes the trade. But a career that has brought such rewards began, funnily enough, as punishment.
Figuring It Out
When Kavelines was 15 years old, his mother grounded him. He was not happy about it. Nor was he happy about what the punishment entailed. Kavelines had to clean the basement.
As he dug through the room's forgotten knickknacks, he stumbled onto two Dell desktop computers. Not being much of a technology buff yet, Kavelines was nevertheless curious. He asked his mother if the computers worked.
"I don't know, figure it out," she told him.
He set out to do just that. Kavelines plugged in one of the desktops, began tinkering and quickly fell in love. The satisfaction he found in getting the computers up and running pointed him to an obvious career choice. As soon as he could, he entered vocational school and focused on IT.
There he discovered a whole new world of things to figure out.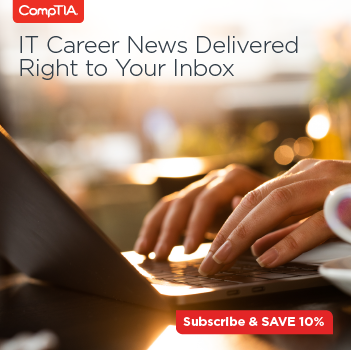 Building a Foundation with CompTIA
In school, Kavelines got a feel for the range of tasks he would have to take in an entry-level IT job. He also got some important professional advice: his instructor explained how beneficial CompTIA A+ was in helping people get into IT and start working.
After completing his course, he dove into CompTIA A+ study materials. Earning his certification in short order positioned him to jump right into the job market.
Beginning at the help desk, Kavelines learned all of those soft skills that IT pros carry with them through their entire career. He learned to communicate effectively with customers and to get to the heart of the problem while troubleshooting. This early experience helped him develop a personal philosophy that has become foundational to his career.
"You'll have rough days on the help desk, or an issue you can't resolve," Kavelines said. "Remember take a step back and use those situations as learning tools. We can't be great without mistakes. It's part of life."
Kavelines honed his tech and customer service skills at the help desk, then began moving up the IT career ladder. The challenges grew in scope and sophistication.
One instance in particular gave him a big scare – and a chance to shine.
Troubleshooting Without Any Trouble

One morning, soon after becoming a network technician, Kavelines got to work and found that his senior coworker was out sick. On a normal day that would be no problem. But on that day he received a SEV1 page. The network was down. A line card was out.
Kavelines could have panicked. Instead, he fell back on his professional instincts and training. Getting support for the product on the phone, replacing the hardware and getting the network up and running, he successfully managed what could have been a catastrophic outage with minimal downtime.
Successfully meeting real-life challenges has helped Kavelines continue to build his confidence in his problem-solving abilities. And the personal satisfaction he finds in solving tech-related problems has led him not only to continue up the IT job ladder, but to tell the whole world about it.
Telling the World About Tech
Tech is more than just a career for Kavelines; it's a lifestyle. He is a tech evangelist who can frequently be found talking IT online in a number of social media outlets, including his own blog TechHouse570. And while this may be a labor of love, the content he has created has also served him well professionally.
Last year, Kavelines was contacted by a recruiter at an IT services company Helient. Impressed with his skills and passion for the field, the company reached out. In November, Kavelines began there in the role of managed services systems engineer.
With his sights set on building his engineering skills and advancing even further in the profession, he is looking to add Cisco Certified Network Associate (CCNA) then Cisco Certified Network Professional (CCNP) to his credentials in the near future.
Longer term, he hopes to become a systems architect. But learning, living, working and continuing to spread the word about IT are more on his mind that what high-level title will eventually end up on his resume.
"No matter where we all are, it's all about our journey," Kavelines said. "Whatever path we decide to follow is up to us!"
And as he continues on his journey, Kavelines always finds himself returning to the basics. Having to figure it out launched his tech career all those years ago, and CompTIA A+ helped him do that.
"Every role I've held, there's always some type of call back to my help desk days," Kavelines said. "No matter what role we're in, we still utilize the foundational pieces and just build upon them for a successful path forward."
Learn the foundational skills to start your IT career with CompTIA A+. Sign up for a free trial of CompTIA CertMaster Learn + Labs for A+ to get started.
Matthew Stern is a freelance writer based in Chicago who covers information technology, retail and various other topics and industries.