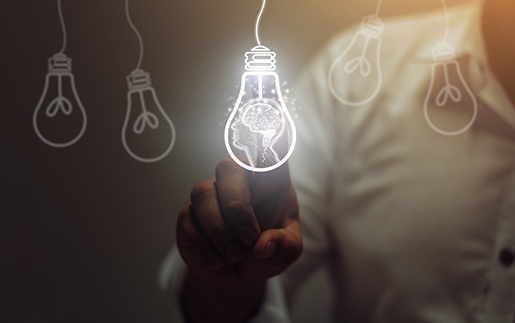 When it comes to analyzing your team's sales compensation plans, or figuring out where your latest marketing campaign went awry, or what new security tools could help you protect your clients, wouldn't it be great to ask a genius? CompTIA members will get that chance again March 14-15 at CompTIA's Communities & Councils Forum in Chicago.
The one-on-one sessions between industry experts and MSPs looking for help have proved successful (and helpful), and this time CompTIA has recruited geniuses for topics including cybersecurity, marketing, sales, workforce/hiring and leadership/strategy to answer questions and give advice in 25-minute sessions at CCF. The sessions book up quickly, so interested corporate members are advised to schedule a session sooner than later because space is limited.
Come for the Advice, Stay for the Member Networking
The 1:1 sessions provide valuable insights and actionable advice that can start to be implemented into businesses almost immediately, said previous Genius Café attendees.
"We offer cybersecurity, but we felt we could improve. When I spoke to one of the geniuses, I got a better way to start looking at what we were doing and we were able to fill in gaps and strengthen our security offerings," said Sarah Goffman, CEO of TCE Communications, a Rockford, Ill.-based MSP.
Specifically, TCE Communications now offers dark web scans, a service it had not provided previously, and enhanced customer education and training initiatives.
"Dark web monitoring was something we used internally before—we did scans to see what info was out there about us, but it was not on our radar to offer to all our clients until the Genius Café conversation," Goffman said. "Plus, the training initiatives have absolutely helped our customer relationships. Our customers know we have their best interested in mind and we want to bring them an entire security package, not just equipment. So dark web monitoring and more training helps us bring in more of a security culture to companies."
For anyone scheduling a Genius Café session, Goffman advised to come prepared with several prioritized questions in order to maximize time. "It's a great way to have a 1:1 conversation with someone who is an expert in that field. They understand the space, they answer questions and they're a great business resource. It's really beneficial."
Brendan Turner, president and CEO of Turner Techtronics, lauded his experience with a marketing genius at an earlier event for helping him strategize how to target into new industries.
"My organization struggles with breaking into and marketing to new market verticals such as healthcare and finance. [The genius I talked to] was very knowledgeable and provided great insight and vertical specific ideas for our website and marketing program which I will share and implement with our sales team," Turner said.
Jhovanny Rodriguez, vice president and co-founder of GreenLink Networks, Addison, Tex., and founder of Synetek Solutions, has ample experience as an MSP and selling to MSPs. As a prior sales genius at a CompTIA event, he helped MSPs avoid simple mistakes that could improve their business.
Among the common mistakes he often sees are MSPs "winging it," i.e., selling without any formalized strategy or process. "Whether you're generating sales through lead generation or referrals or word of mouth, there needs to be a defined system of what to do—and not to do—when you get a lead," Rodriguez said.
Another tip: take a personal approach on follow-ups with customers. "I see a lot of MSPs who have a great customer meeting, then go back to the office and email a proposal and never hear back," Rodriguez said. "A customer many interpret an email pitch differently than you intended. Email proposals focus more on the number, not on the value you are providing."
Learn from Experienced Experts
MSPs of all sizes—even the most successful ones—can gain new insights and find a nugget to take back to their business, said Raffi Jamgotchian, CEO of Triada Networks, who has served as a cybersecurity genius.
"We're all at different places in our journeys. There's always someone who is one or two steps behind you. Being in security for 30 years, there might be something I can impart based on what I've done or what has been successful or not successful," he said.
For example, MSPs might want to review their cybersecurity solutions stack and identify where potential gaps or improvements may lie.
"Some MSPs have stacks but aren't sure about them while others don't know where to start," Jamgotchian said. "What I tried to impart is identify what problem you're trying to solve and look for the products and processes that work best for you and ultimately help you solve the problem."
Genius Café sessions at CCF will focus on cybersecurity, sales, marketing, cybersecurity, and leadership. Overall, the idea is to provide non-bias, valuable content that connects directly to people looking to improve their businesses, said Jason Kemsley, technical director of Uptime Solutions, West Sussex, UK.
"There is no better way to make sure you are growing as both a business and as a person, than to collaborate 1-to-1 and receive some knowledgeable takeaways direct from an expert," said Kemsley, who has served as a leadership genius in the past.
The conversations are not one-sided. The geniuses said the sessions are valuable to them also, providing an opportunity to refine their own messaging and learn from others too.
"They say you learn better when you're teaching it. It helps you articulate the value of things more succinctly and to consolidate some things I've learned into some bite-sized things that folks can take away," Jamgotchian said. "I felt like I was learning as much as the person sitting across from me. It was definitely a two-way street. It's a great way to get people a safe space to ask questions. One of the things CompTIA does very well is providing that safe space. We're all here to help each other out."
During the CompTIA Communities & Council Forum, the Genius Café will be March 14-15 for 1:1 sessions. For more information and availability, contact [email protected].
Ready to Talk?
Register now for CompTIA's Communities & Councils Forum!