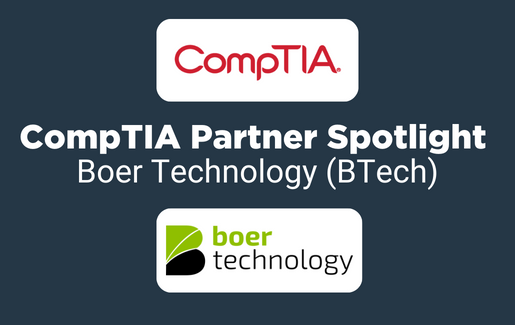 As the regular use of technology grows significantly across the globe, so does the demand for skilled information technology (IT) professionals. The ever-changing demand of the industry emphasizes the need for academic organizations to rely on the expertise of educational technology partners who can help address skills gaps.
Since 2020, Boer Technology (Btech), an IT training and managed services provider for the Asia-Pacific (APAC) region, has partnered with CompTIA to improve the quality of learning and education for IT students in Indonesia. CompTIA's Authorized Partner Program provides valuable guidance and resources that help academic institutions, governments and training organizations, like Btech, prepare students with the skills and competencies needed to be successful within the tech industry.
By improving the operational management, curriculum, educators and facilities through their partnership with CompTIA, Btech prepares high-quality technology professionals to fill in-demand job roles.
Download the full PDF to learn more about how Btech has partnered with CompTIA to skill and upskill students and IT professionals.
Enhancing IT Skills for Btech's Students
As the fourth most populous country in the world, Indonesia has seen a great expansion in their digital transformation over the past few years. This rapid digital acceleration has also brought forth a greater need for skilled IT pros to help with cybersecurity initiatives and IT services to better protect the country and businesses from cybersecurity threats. Understanding the need for more skilled IT pros required to increase digital protection measures for the country and businesses alike, the leadership of Indonesia founded Btech.
Btech set out to collaborate with international organizations, such as CompTIA, to support the development and growth of the IT skills that young Indonesians were learning in school and in higher educational institutions. Btech's leadership understood the immense value of that learning, but knew it still needed to be supplemented with hands-on training and approaches that are often best learned on the job.
In order to increase the amount of IT skills learned among much of Indonesia's youth, Btech, along with help of CompTIA, non-profit InfraDigital and the support of Mastercard's Center for Inclusive Growth, established the Cyber Security Training (CST) program. The goal of the partnership is to ensure the continuous learning and collaboration support of Indonesia's talent by creating and building skilled professionals in the IT and cybersecurity spaces.
Empowering Btech Students Through CompTIA's Partnership
When Btech sought out to develop and build the partnership, they wanted to ensure they addressed all the IT foundational knowledge a new hire would need. Leadership at Btech knew that they wanted to work with a vendor-neutral organization to support building a solution with Linux competency at its core, given it is one of the most important skills a student can have in IT and cybersecurity.
Btech's choice to partner with CompTIA was based on the understanding that the vendor-neutrality and industry recognition of CompTIA learning materials and certifications would serve the organization and its students positively and provide them with the knowledge and skill sets needed in the industry.
"For any job in IT, we really think Linux is the most important skill a student could have. In every scenario, most people in IT here are using Linux every day, in the cloud and so on," said Saputro Aryuilanto, vice president of tech talent delivery at Btech.
Therefore, Btech understood the benefit of CompTIA Linux+ – the only job-focused Linux certification that covers the most up-to-date skills needed by employers. Btech also understood that certifications like CompTIA Linux+ include highly important facets of the skills needed in a cybersecurity role, such as securing the enterprise, keeping systems operating efficiently and powering the cloud successfully.
With the training and certification options CompTIA offers, Btech felt confident that they were partnering with an industry leader that would help their students achieve greater success in their careers.
How Btech Unlocks Success With CompTIA's Partnership
Since Btech became a CompTIA partner in 2020, they have implemented a bootcamp-style model for their students to learn the necessary skills for the IT and cybersecurity industries. Their CST program includes students between the ages of 16-24, with the program goal of completing five months of in-person training at one of the Btech training locations on Java Island in Indonesia. During the bootcamp, students are expected to meet for four hours, twice a week.
During those sessions, students work on both IT theory, core concepts of the industry and hands-on assignments facilitated by program instructors. The program was designed to ensure that both comprehensive IT skills and employability skills are addressed in order for students to learn and gain the knowledge that will help them succeed in IT job roles.
"We make sure students also build professional development skills that will support their career needs," Aryulianto said. "For example, communication and public speaking are training done in person, and they come to the classroom to learn along with the CompTIA materials."
Students who successfully pass their assessments and complete the CST program ultimately earn more than just general employability in the industry. They also earn highly regarded and industry-specific credentials which include CompTIA Network+, CompTIA Linux+, CompTIA Security+, CompTIA Cybersecurity Analyst (CySA+) and CompTIA PenTest+.
The skills and certifications the students earn upon successful completion of the program afford them with some of the most necessary skills needed in both the IT and cybersecurity industries.
As of 2022, over 6,158 students from across Indonesia have taken part in the CST program. While many students have participated, the program is still rather challenging to complete. Overall, the program has shown success and has proven to help Indonesia fill IT and cybersecurity skills gaps.
To date over 2,432 CST students have been given the opportunity to take CompTIA certification exams. These numbers represent a new pool of certified and highly employable individuals who now have what it takes to enter and succeed in the world of IT, each one changing the IT landscape in Indonesia for the better.
How Tech Companies Benefit From Skilled Learners With In-Demand Expertise
In today's rapidly evolving digital landscape, tech companies are increasingly benefiting from employing skilled learners with in-demand expertise. These individuals versed in the latest industry-specific knowledge and experience often serve as catalysts for innovation for countless tech companies. They help them to stay competitive and on the cutting edge of the latest industry needs.
These IT professionals are proficient in complex problem-solving and critical thinking skills that are integral to a multitude of tech-based companies. With skilled IT pros coming from a partnership program like the CST collaboration with Btech, Indonesia can drive exponential growth, streamline processes and develop new products and services to better help companies succeed.
As the tech industry grapples with rapid changes and regular uncertainties, having employees who are committed to continuous learning becomes a competitive advantage for companies. Skilled learners that complete programs similar to the CST, are often better equipped to navigate and lead through disruptions, ultimately driving transformation and ensuring an organization's long-term success.
Learners that complete these programs are able to help support an organization's business needs and have the ability to absorb new information, adapt to changing conditions and apply their knowledge in innovative ways, making them invaluable assets in the fast-paced tech industry.
Interested in Becoming a CompTIA Partner? Learn More.