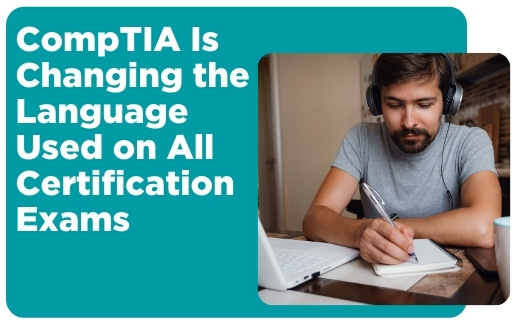 Inclusive language has been a hot topic this year, and rightfully so. Leaders across all sectors are aware of this and recognize their organization's use of language that is unintentionally exclusive and/or promotes bias. In the IT industry, as well as many others, the use of language that is not inclusive is changing.
"There's a big adjustment happening in our industry toward using more inclusive language," CompTIA Senior Director, Exam Services, Carl Bowman explained. "Large and small vendors alike are reconsidering what terms they use to describe technical functions."
Exclusive language is wording that promotes inequality. It undermines humanity by minimizing the worth and capabilities of individuals from marginalized groups.  
Such language creates a culture of exclusivity and can lead to individuals consciously or unconsciously diminishing the contributions, talents and potential of individuals from underrepresented groups. By making the language used on certification exams more inclusive, CompTIA is ensuring every individual in IT is seen, validated and welcomed. 
Changing the terms used to describe technical functions isn't an easy or quick process. The Academy of Software Foundation said that making code and documentation inclusive can be tough and that deploying change across entire repositories often requires a unified team effort.
"What's more, without a certain level of self-awareness, it may be hard for some people to recognize terms that others may find offensive or disrespectful," Barathy Rangarajan of DreamWorks Animation wrote. "Language that may not stand out to some people at first glance could provide discomfort to others, such as the formerly common naming convention of 'master' and 'slave' processes."  
The Wired article "Tech Confronts the Use of the Labels 'Master' and 'Slave'" stated these terms have been in use for more than a century in technical contexts to reference instances where one process is in control of another process.
"The 'master/slave' metaphor in technology dates back to at least 1904...organizations have more recently revised language that could be seen as rooted in racism," Elizabeth Landau wrote. "Sometimes the metaphor is less precise: A 'master' may simply lead, serve as a primary resource, or be considered first."
CompTIA is undergoing the complex exercise of changing the language used on its certification exams to be more inclusive. This change is in line with what is happening within the IT industry at large, so it's in good company.
Bowman said CompTIA is taking the necessary steps of changing out traditional tech terms for alternative, inclusive language that is bias-free and more culturally aware. For example, "master" and "slave" have been replaced with "primary" and "secondary."
Help Us Advance Tech Talent and Diversity
The CompTIA Advancing Tech Talent and Diversity Community aims to develop an inclusive workforce culture capable of filling the pipeline for today's and tomorrow's technology careers. The community is open to all CompTIA registered users. It's free to join!
Making Certification Exam Terminology Inclusive
The overhaul CompTIA is giving to the language used on certification exams has been happening for quite some time and is an ongoing project. A key part of the project is complete: Making appropriate substitutions for words used to describe technical terms on the exams.
This may sound simple, but Bowman described it as a thorough, exhaustive process. He explained that each term went through a review by a panel of CompTIA Subject Matter Experts (SMEs) that comprise the CompTIA Certification Governance Committee. The committee spent a month deciding on most of the key replacement terms. Five months later, they continue to finetune the new terminology that will be used on CompTIA exams.
The purpose of the committee is to ensure CompTIA certifications remain fair, accurate and current by providing support and expertise in a timely fashion during the development of CompTIA's entire certification exam portfolio. Read more about this committee and the individuals who comprise it.
Examples of Inclusive Technology Terms
"Master" and "slave" aren't the only terms CompTIA replaced with more inclusive terminology. "Blacklist" and "whitelist" have also been changed to "blocklist" and "approved." This is an example of how color-related terms were being used in a metaphorical way to describe a feature of functionality. But technical terms don't have to refer to color to be understandable.
"A stop sign is red, but it is not referred to as a 'red sign,'" Bowman pointed out. "While 'stop sign' is a more inclusive term than 'red sign,' it also makes more sense."
There are better, less metaphorical ways to describe technical functions. It's not only about equity and inclusion, but also ensures that technical phrases are not open to interpretation and thus confusing.
CompTIA is also looking at terms related to gender. Gender-specific pronouns like he/him/his and she/her have always been avoided - both for gender-neutrality and for clarity - by referring to the job or position itself, such as technician, systems engineer or cybersecurity professional Now, CompTIA has taken it further to use terms like "person hours" instead of "man hours." Thaisa Fernandes made this point in the Medium article "Inclusive Language Guide for Tech Companies and Startups."
Here is the full list of CompTIA's traditional technology terms versus new, more inclusive terms.
Old Term

New Term

DMZ

Perimeter network

Master/slave

Primary/secondary (or host/client if used in a network context vs. drives)

Hang

Become unresponsive

Blacklist

Network context: Blocklist or deny list

Software context: Unapproved list

Whitelist

Network context: Allow list

Software context: Approved list

Specific countries considered enemies of a country

Foreign adversary

Native

Built-in, default, inherent, standard

Black-box testing

Unknown environment testing

White-box testing

Known environment testing

Gray-box testing

Partially known environment testing

Black hat

Unauthorized

White hat

Authorized

Gray hat

Semi-authorized

Blackhole

Sinkhole, process vacuum

Black screen

Blank screen

Blackout

Power loss/power failure

Brownout

Under-voltage event
Inclusive Language Adds Clarity
As noted above, being culturally aware isn't the sole purpose for CompTIA changing the terminology used on certification exams. Besides being more inclusive, technical terms that are not focused on color, gender, age or other characteristics are often easier to understand. They can be really helpful to a new IT worker or anyone who wants to learn more about IT.
"Changing the terminology we use on our exams is both culturally aware and clarifying of the terms themselves," Bowman said. "It benefits everyone who takes an exam."
Wondering when all CompTIA certification exams will include this new terminology? While the process of updating every exam is well underway, substituting the terms in our more than 50 exams worldwide will be an ongoing initiative and one that CompTIA is committed to. 
Stay up to date about CompTIA certifications and technology trends by subscribing to CompTIA's IT Career News. As a thank-you, we'll give you 10% off your next purchase.