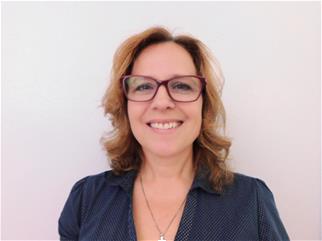 A couple of years ago, four young women sat in a high school Java programming class in Austin, Texas. Becky McCully, who visits schools as part of a program to provide tech training for students and teachers, noticed them. They had their notes out, and they looked determined to learn.
During the game at the end of the session, where students could prove what they had learned, the studious young women dominated.
Speaking with them afterward, she took their success as a moment both to encourage them and get other female students interested in tech. Her message: tell your friends, get them interested. The next year, when McCully returned to the same class, she noticed even more young women on board to learn.
This successful exercise in tech evangelism represents just one small victory in McCully's mission to help young women build their tech skills – and her mission deeply personal.
Born into Technology
McCully's mother began a computer career in the 1970s, when computing was niche, tech pros were a rare breed and user-friendliness was barely a concept. As a child, coloring on the data storage punch cards her mother brought home from work, McCully was immersed in the emerging world of computing technology.
Life and formal education, however, took McCully in different directions. She taught elementary school, middle school science and at one point studied to be a nurse. Interspersed throughout those non-technical careers, though, she worked as a COBOL programmer and a web developer. Sometimes she even helped troubleshoot and secure her mother's homespun web projects. (Her mother, who passed away in 2015, continued to be tech-savvy through her entire life.)
While McCully's most recent position providing tech training in schools was fulfilling, she began to feel like something was missing. Being a tech educator, she decided it was time to gain some tech education of her own. This feeling would eventually lead her to CompTIA certifications to accomplish her personal and professional goals.
"I talk to engineers all year [visiting schools to organize tech education programs]," McCully said. "I've sometimes felt like I don't know anything. [I thought] if I could earn some certifications I feel like it would be one, good on my resume and two, good for my confidence level that okay, I do know these things and I can compete."
Discovering Cybersecurity, Western Governors University and CompTIA
As McCully researched her best upskilling options, cybersecurity wasn't at the top of her list. In fact, it was an unfamiliar area of technology that sounded cryptic. A trusted friend, however, recommended cybersecurity as a path to a more lucrative career.
As she investigated, McCully found that she enjoyed the material more then she had expected. Finding the right way to go back to school, however, posed its own challenges.
As a single mother with a busy schedule, one obstacle was time. When she discovered Western Governors University (WGU), and its self-paced programs geared toward professionals, the cybersecurity program proved to be the perfect fit.
McCully began moving through courses quite quickly, and before long she was ready to test for the CompTIA A+ exam. Although she had decades of self-taught IT knowledge and hands-on experience, this was the first credential she would earn that would confirm – to potential employers and to herself – that she knew how to do it right.
"I tinkered over the years but never had fully explored or investigated or had a class [on hardware] so for me it was a lot of fun finally getting that CompTIA A+," McCully said. "I tell people that all the time, I'm CompTIA A+ certified!"
McCully moved right along and earned the more challenging CompTIA Network+ and CompTIA Security+ certifications shortly thereafter. With the big three CompTIA certifications in hand, she's now up to speed on the latest skills and has the credentials to prove it.
"It is a wonderful feeling for someone who has been self-taught all these years," McCully said. "It has meant an explosion in my personal confidence of my own ability."
Bringing it All Together with CompTIA Certifications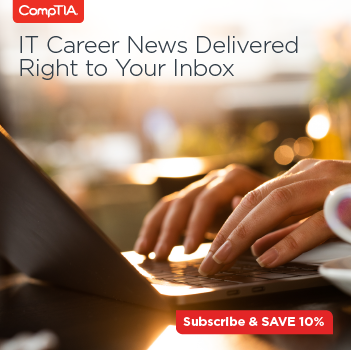 Since earning CompTIA certifications, McCully has challenged herself with new job roles. This job search, however, feels a little different than previous ones. Those unicorn job listings, once out of reach, could now result in a call back given the widespread industry recognition of CompTIA certifications and the expertise they signify.
And she isn't limiting her search to job boards. On top of certifications, McCully has been boosting her professional profile by participating in networking groups and mentorship opportunities for women in tech. She also plans on pursuing advanced certifications like CompTIA Cybersecurity Analyst (CySA+) to make an even bigger impression as she fine-tunes her professional focus on cybersecurity analytics.
But the promise of a lucrative and stable cybersecurity job is only one of the benefits McCully is on the path to with CompTIA.
Now, when she visits classrooms, her certifications allow her to proceed with confidence. She can now explain tech careers to generations of young women not just from the perspective of a lifelong techie, but as one confident in her mastery of the skills today's complex tech landscape demands. She can tell students a stronger story and act as an inspiration the way her most important role model inspired her.
"It's really going to be helpful for me going forward," McCully said. "Having these under my belt when I go out and say, 'I used to be a second-grade teacher, and I learned all these really cool things and I was able to pass these tests. If I can do it you can do it,' and just kind of be that encouragement for females that my mom was for me."
Interested in pursuing an IT career? Check out CompTIA A+. Download the exam objectives for free to see what's covered and start studying.
Matthew Stern is a freelance writer based in Chicago who covers information technology, retail and various other topics and industries.