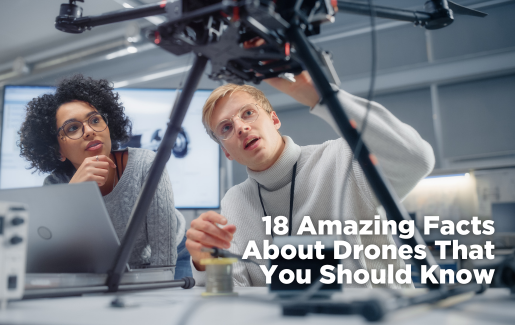 Drones offer unique opportunities for business and recreational usage. Also known as unmanned aerial vehicles (UAVs), drones are flying machines that don't require the use of a pilot within the device itself. The initial purpose of drones were military in nature, an innovation that was intended to eliminate the dangers to pilots in potentially dangerous situations. Now many companies are experimenting with drone usage as part of their business model. Drones have also helped to revolutionize the cinematic industry, with picturesque views from the sky and even been used in agriculture to better monitor crop conditions. And the list goes on.
Now, the use cases and business applications are off the charts, creating significant opportunities for MSPs and solution providers to integrate drone solutions into their existing offerings. From recreational use to surveillance and scientific research to remote location monitoring, drone use is quickly expanding. The global drone market is expected to reach $43.1 billion in 2024, up from $14.1 billion in 2018. An industry that shows no signs of slowing, drones have drawn the interest of enthusiasts and business leaders alike.
Here are 18 amazing drone facts you should know.
Fact 1: Drones Are Now Being Used for Home Security
Ring's Always Home Cam coming to the world of home security. Rather than offer a static view, Ring's new security camera takes flight to give you a 360-degree view of your home. The device automatically flies to give you a comprehensive view of your home. You can view the feed on your smart device.
Fact 2: Drones Have Many Uses in Law Enforcement
Law enforcement agencies are also utilizing drones and unmanned aircraft for multiple purposes. In particular, drones are being used to monitor areas that have previously proved difficult, such as border patrol. Other use cases include traffic crash reconstruction and surveillance, reconnaissance, SWAT operations and searching for lost people. As far as the use of drones in criminal investigations goes, there are some issues with their impact on Fourth Amendment rights.
Fact 3: You Can Be a Professional Competitive Drone Pilot
Drones now have their own professional sport, known as DRL or Drone Racing League. Yes, you can even try out and, if you're good enough, participate in a world championship competition.
Fact 4: Unmanned Doesn't Necessarily Mean No People
Unmanned aerial vehicles don't mean there are no people on board. In fact, the most expensive UAV you can buy is a personal transport device. The EHang sports a price tag of $300,000 and is the world's first electric drone capable of transporting people from one destination to another. The EHang has a max payload of 220 KG, runs on battery power and uses battery power management and redundancy to ensure safe travels.
Fact 5: Drones Can Save Lives
Drones are also being used to enable better medical outcomes. In 2021, a drone was used to transport lungs from one hospital in Toronto to another. Rather than rely on ground transportation in a busy city, the hospital flew the lung to a nearby hospital in six minutes. Medical professionals are also using ambulance drones modeled after quadcopters to deliver critical medical supplies to a person in need of immediate assistance.
Fact 6: No Drone Zones Are a Thing
On August 2, 2014, a drone pilot accidentally crashed a drone into one of Yellowstone's delicate hot springs, leading to a ban on drone flight over National Parks. A visiting tourist seeking a unique view of the park, accidentally crashed in the Grand Prismatic Spring. This resulted in a ban and fine for the tourist and legislation that prohibits flying over National Parks in the United States. Other prohibitions include restricted airspace and areas identified by local agencies. You can see a full listing of No Drone Zones in the B4UFLY app.
Fact 7: The First Armed Military Drone Was Used By the CIA
The first time the U.S. government employed armed UAVs can be traced back to a CIA mission from 2001. The MQ-1 Predator drone was deployed to carry anti-tank missiles into Afghanistan. Since then, drones have been used to gather intelligence and perform surveillance for military purposes.
Fact 8: You Must Register Personal Drones With the FAA
Federal law requires that all drones over .55 pounds must be registered with the Federal Aviation Administration (FAA). You must pay a registration cost of $5 which remains valid for a three-year period. All drones must also display registration numbers. Failure to register your drone can result in fines and criminal penalties. In fact, the tourist responsible for the National Park ban was fined $1,000 and ordered to pay $2,200 in restitution.
Fact 9: Drones Are Helping With Anti-Poaching Efforts
Illegal hunting of certain animal populations are affecting ecosystems in Africa and Asia. The World Animal Foundation reports that more than 20,000 elephants are poached annually, a problem that is having a significant impact on animal populations. Different programs, such as Air Shepherd, are being used to combat poaching with drones.
Fact 10: Counter-Drone Technology Is Being Utilized
Drones have become so widespread that counter-drone technology is now essential to keep unwanted eyes off of proprietary or sensitive events. In 2020, Heathrow Airport installed a unique counter-drone system to prevent flying in restricted space and even track down the rogue pilots. Some counter-drone systems are even designed to protect against rogue drone pilots gathering intelligence in stadiums and during the development of movies.
Fact 11: Nikola Tesla Invented Drones
Fun fact, Nikola Tesla is credited with inventing the first drone. Known for his advancements in electricity, Tesla pioneered a method for the remote control of devices. In 1898, Tesla developed a radio-controlled boat which is known as the ancestor to modern-day UAVs.
Fact 12: U.S. Legislation May Be in the Works to Ban Chinese Drones
Although the law has not made its way through Congress, the American Security Drone Act of 2023 was introduced to Congress this year. The bill would ban the procurement and use of UAS (unmanned aircraft systems) that were manufactured or assembled in certain foreign countries, notably China. If passed, the law will remain in effect for a period of five years.
Fact 13: Uncrewed Traffic Management Could Take Us to the Next Level
Uncrewed traffic management is considered to be the next step in the evolution of drones. Essentially, these systems would help to autonomously regulate traffic in the skies to limit interference with one another and other aircraft. Likened to stop signs in the skies, uncrewed traffic management is widely regarded as the next logical step toward drone usage at scale.
Fact 14: There's More Drone Regulation Coming
A new law will require that all drone pilots operate their drone in accordance with the new UAS Remote Identification rule. This new rule goes into effect on September 16, 2023 and will require that all drone pilots, including those only engaging in recreational activities, must use broadcast technology to provide identification and location information about each device.
Fact 15: There Are More Drone Pilots Than Traditional Pilots in the Air Force
Drone pilots currently outnumber those flying traditional fighter and bomber jets. The upcoming plan for 2024 involves budget requests from the Air Force for up to 1,000 drone wingmen. The plan involves unmanned aircraft flying alongside manned fighters in what they're calling "collaborative combat aircraft." The effort involves cost-cutting measures to provision an "affordable Air Force."
Fact 16: V2V Communication Is Next
Vehicle-to-vehicle (V2V) communication is the next step for unmanned aircraft systems if we have any hope of prevalent drone usage. With a CAGR of 66.8%, experts are anticipating mass drone usage in the near future. Those same experts are suggesting that the only way that can be made sustainable will involve V2V communication between drones to limit collisions and potential harm. A recent white paper explores the increasing need for autonomous vehicles to communicate directly with one another.
Fact 17: Drone Job Opportunities Are Real
There are lots of industries leveraging drones these days—creating a big need for jobs to support the technology too. In fact, Optics Mag reports that drones are expected to create approximately 103,776 jobs by 2025, which will grow to an estimated $63.6 billion. Drone operators are needed in fields such as construction, emergency management, entertainment, logistics, surveying and many more. Fact 18: Organizations Need Services Help
Businesses are in need of drone services. If they don't have internal capabilities, they'll look to vendors or solution providers to help fill that gap. Only about 1/3 of organizations in need of drone services are using internal resources. According to CompTIA research, a little more than 1/4 of organizations fully leverage Drone Service Providers (DSPs) to source their needs, while nearly 40% use a combination of in-house and solution providers. There are real opportunities for solution providers to add drone operation to their list of offerings.
Want more interesting IT statistics and facts? Check out CompTIA Quick Stats, a library of data from the CompTIA researchteam to use in presentations, strategic documents and market research.