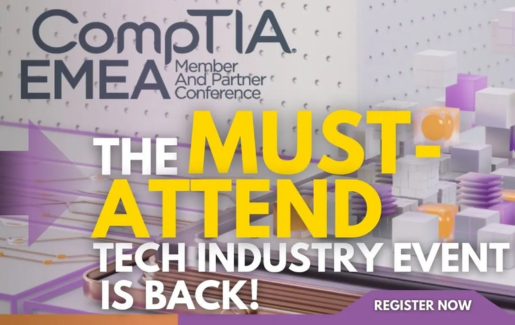 There's something about gathering a who's who of tech and business industry titans and thought leaders in one space that gets the creative juices flowing. If you're starting, growing or selling a business or wanting to level up in any way, then don't miss CompTIA EMEA Member and Partner Conference 2023.
Join us in the heart of London, 2-3 October, for an exhilarating combination of people and insights that will result in actionable business advice—and connections that will stand the test of time. Here's 10 things you won't want to miss this year.
1. Learn About the New Cybersecurity Trustmark
Your reputation is everything. Updated this year, the Cybersecurity Trustmark offers a path for solution provider members who are looking to differentiate themselves by adhering to this industry standard of controls. Participate in this Monday workshop to learn more about the criteria and the steps your organisation can take to earn the CompTIA Cybersecurity Trustmark.
2. Hear From CompTIA CEO Todd Thibodeaux

CompTIA's goal is to be the most respected place to start, build and supercharge your tech career—and provide the tools and resources to keep your business and customers safe. Hear CEO Todd Thibodeaux share insights on issues impacting our industry, including cybersecurity trends.
3. Adopt Innovative Ways to Grow Your Business
Traditionally, the topic of growing your business includes how you find and win new customers, expanding your offerings and even mergers and acquisitions. That's still the case, but our business growth sessions will also cover how to attract and retain top talent, how to cultivate a culture that values mental health and even what your body language is communicating.
4. Hear From Hans Demeyer
Hans Demeyer is a non-conformist source of optimism and inspiration that operates very far from the box. He brings an exceptional energy that is highly appreciated by his audiences and clients, leading to positive energy and inspiration for you and better results for your business. He will speak to us about developing strategic skills in leadership by facilitating the discovery of hidden treasures and potential.
5. Spark New Ideas With Sana Khareghani
Share a fireside chat with Sana Khareghani of Responsible AI UK. With more than 20 years of experience in technology and business across private and public sectors, she has worked as a software engineer in big corporations and start-ups and as a management consultant advising senior officials across the globe.
6. Listen to Documentarian Louis Theroux
Our closing keynote presenter, Louis Theroux, is a documentary presenter best known for producing immersive documentaries that explore the often controversial and complex aspects of the human condition. Using a gentle questioning style and an informal approach, he has shone light on intriguing beliefs, behaviours and institutions by getting to know the people at the heart of them.
7. Take Advantage of Cyber and Tech Talent Tracks
If there are two universal challenges we're facing, they are cybersecurity and tech talent. The EMEA Member and Partner Conference offers plenty of sessions on each topic. Learn from leading cyber professionals about how to identify the latest threats and leverage the latest tools to stay safe. And learn about employment initiatives, trends and best practices to keep your employees engaged.
8. Break Out and Drill Down on Hot Topics
Want to learn more about what's trending in cyber, emerging technologies and diversity, equity and inclusion (DEI)? Join these breakout sessions to learn the latest and discover what CompTIA is doing, who's leading the charge and most importantly–how you can get involved. Breakout sessions will take place on Monday.
9. Level Up With a Business Genius Café Appointment
CompTIA members have an exclusive opportunity to book 25-minute appointments with industry experts at the Business Genius Café to get business advice, valuable insights and guidance on various topics and challenges relevant to your business. This is your chance to talk about your specific situation and benefit from 1:1 advice.
10. Check Out the Latest Tech Products, Services and Solutions
The CompTIA EMEA Member and Partner Conference will host more than 50 exhibitors demonstrating their latest technology products and services. Benefit from breakfast, lunch and networking in the exhibit hall where you can visit each stand and engage with vendor representatives to learn not only what's new, but how it can help you grow your business. 
Register Now for EMEA Member & Partner Conference
2-3 October 2023 │ London